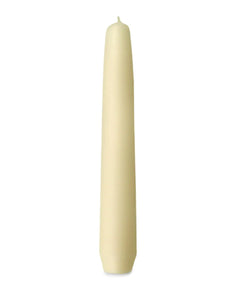 These candles are meticulously crafted to create a classic and timeless design that will complement any decor. Crafted from high-quality wax, our Taper Candles are designed to burn slowly and evenly, providing hours of warm and welcoming illumination.
Our Taper Candles are incredibly versatile and can be used in candle holders, candelabras, or on their own.
They are ideal for setting the mood during romantic dinners, adding a touch of elegance to dinner parties, or creating a cozy and relaxing atmosphere at home. Each Taper Candle is carefully crafted to guarantee a consistent and clean burn. They are also dripless, reducing the possibility of any mess and making them perfect for use in any space.
Whether you're looking to enhance your everyday life or decorate for a special event, our Taper Candles are an absolute must-have. They make an excellent gift for candle enthusiasts or anyone seeking to elevate their space with the warm and inviting glow of candlelight.