The Story Behind Our Name
Why the name Olfactory?  
The dictionary definition of Olfactory is...'relating to the sense of smell', the olfactory nerve is directly linked to the area of the brain that accesses memory, mood and emotions and this is why our slogan is "Where smells ring bells".  The slogan was thought up by my husband and was added as a bit of fun,  we still giggle about how proud he is to have thought this up.
The Power of Smell
At Olfactory we know how powerful our sense of smell is, scent can stir emotions in us and evoke memories.  We love how fragrance can make us feel, it can remind us of happy times spent with friends and family and transport us to far away places.  We want you to enjoy choosing your favourite scent and feel excited when placing that first piece of wax on your burner then waiting to see where the aroma takes you.  It's such a simple thing, yet it can give you so much pleasure.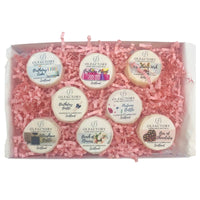 HAPPY BIRTHDAY WAX MELT BOX
Looking for something different to gift someone for their Birthday, we we've got it covered. Our Happy Birthday Box has 8 Birthday themed wax melts inside with each scent representing the gifts we may receive on our special day.
SHOP NOW
For the love of fragrance
We have always loved candles and melts, the thrill we have when selecting new fragrances for our collection, the pleasure we have when making them and, the love that we put into each and every single one we make.  This is our dream and we hope you enjoy our products as much as we do.