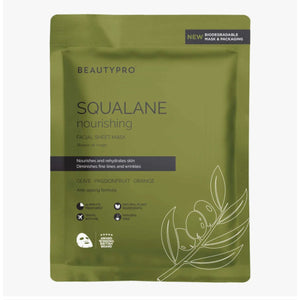 Boost collagen production | improve elasticity | control oil levels Kickstart anti-ageing with our squalane nourishing facial sheet mask. This plant based formula uses olive, passionfruit, organic sweet orange oil and organic almond oil to deeply hydrate, replenish and enrich the skin.
The sheet mask uses our new 100% biodegradable packaging. Once opened, our new eco pouches begin to biodegrade immediately, taking just 1% of the time compared to traditional plastic. That's 500 years down to 5 years with no trace of microplastics in the soil or sea! This environmentally friendly biodegradable material can be disposed of in general waste, recycling bins and home composts - it will biodegrade in all environments. The sheet mask itself is constructed with bamboo fibres, which not only minimise skin sensitivity but also makes the mask biodegradable.
This 15 minute squalane treatment smoothes the skin, improving texture and reducing fine lines, wrinkles and pores.
Details:-
• Made in South Korea
• Dimensions: 0.3 x 11.9 x 16 cm (0.1″ x 4.7″ x 6.3″)
• Weight: 31.8 g (1.1 oz)

Passiflora Edulis Fruit Extract, Glycerin, Pentylene Glycol, Citrus Aurantium Dulcis (Orange) Fruit Extract, Prunus Amygdalus Dulcis (Sweet Almond) Oil, Citrus Aurantium Dulcis (Orange) Peel Oil, Hibiscus Esculentus Fruit Extract, Dioscorea Opposita Root Extract, Linum Usitatissimum Seed Extract, Salvia Hispanica Seed Extract, Hedera Helix (Ivy) Leaf Extract, Squalane, Decyl glucoside, Limonene