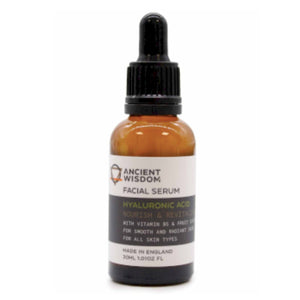 NOURISH & REVITALISH
Facial Serum with vitamin B5 and fruit extracts for smooth and radiant skin.  Suitable for all skin types.
Hyaluronic Acid Facial Serum, your secret weapon for radiant and youthful skin. This exceptional serum is carefully crafted to provide intense hydration and nourishment, helping to diminish the appearance of fine lines and wrinkles. Enriched with the power of hyaluronic acid, it works deep within the skin to lock in moisture, leaving your complexion plump, firm, and revitalized.
Experience the transformative benefits of hyaluronic acid, known for its ability to attract and retain moisture, resulting in a smoother, more supple complexion. This lightweight and non-greasy serum absorbs quickly, delivering a surge of hydration to the skin, while potent antioxidants and botanical extracts help to protect against environmental stressors and promote a youthful glow.
Hyaluronic Acid Facial Serum is suitable for all skin types and can be seamlessly incorporated into your skincare routine. With regular use, you can expect improved skin texture, increased elasticity, and a noticeable reduction in the signs of aging.
Revitalise your skin and embrace a more youthful appearance with Hyaluronic Acid Facial Serum. 
-Made in the UK
-Vegan Friendly