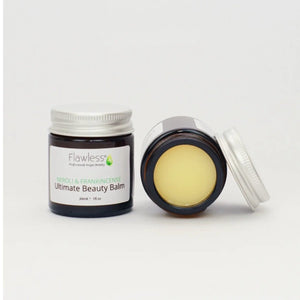 The Flawless Beauty Balm is the ultimate multipurpose beauty must-have to help your skin glow with radiance. Enriched with a multitude of skin-nourishing oils and antioxidants to moisturize and prevent premature aging. 
Ingredient benefits:
Argan Oil rejuvenates hair, skin, and nails.
Rose-hip Seed Oil is antioxidant-rich, preventing premature aging.
Macadamia Oil contains plant-based Squalene which helps to reduce oxidative stress on the skin. 
Luxury Neroli oil calms, relaxes, and hydrates your skin.
Frankincense oil boosts the immune system, tones and lifts the skin and is renowned for its anti-aging properties.
How to use:  Ultra-rich, a little goes a long way leaving the skin incredibly soft and nourished.