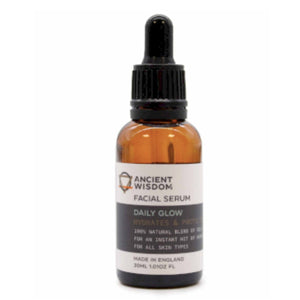 HYDRATES & PROTECTS
Facial Serum with 100% natural blend of oils for an instant hit of hydration, for all skin types.
Discover the power of Daily Glow Oil, a luxurious facial serum that delivers intense hydration and protection for your skin. Formulated with a 100% natural blend of oils, this rejuvenating elixir instantly replenishes moisture, leaving your skin soft, supple, and radiant. Suitable for all skin types, it provides the perfect balance of nourishment and protection to enhance your natural beauty. 
Experience the transformative benefits of Daily Glow Oil and indulge in a daily ritual that will leave your skin glowing with health and vitality.
-Made in the UK
-Vegan Friendly