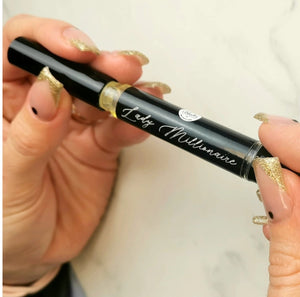 Nails always breaking? Always got hang nails? Cuticle oil is definitely for you.
Fragrance Description:-
Opens with top notes of raspberry, neroli and Amalfi lemon. The scent deepens into a mesmerizing floral mix, with jasmine, gardenia and African orange flower defining its heart.

Vegan and Cruelty Free.


3 ml
What's the Benefits:-
These cuticle pens moisturise skin and create a protective seal to keep all nutrients in.
They have antimicrobial and antibacterial properties to help fight against infection.
They work as an antioxidant to fight toxins and pollution your skin is exposed to everyday.
The oils contained are similar to the oil (sebum) your body naturally produces, this makes it less likely to build up on your skin and become greasy.
How to Use:-
Twist the bottom of the cuticle oil pen once or twice, brush on and massage gently. Can be used on natural nails or even nails with acrylic/gel enhancements on. This motion will increase blood flow to the root of the nail resulting in stronger, longer and more flexible nails to help fight against breakages!
Ingredients:-
Simmondsia Chinesis (Jojoba) Seed Oil
Triticum Vulgare Germ Oil (Vitamin E)
Parfum