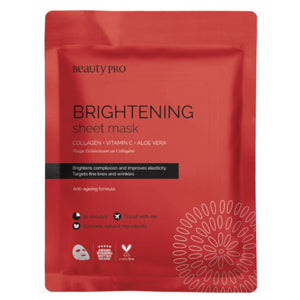 The BeautyPro Brightening Sheet Mask is one of our best-selling masks and will make a great addition to your skincare routine. The mask works to rebalance uneven skin tones and diminish pigmentation while also improving and brightening your complexion. The key ingredients in the Brightening Mask are Collagen, Vitamin C and Aloe Vera which are a great combination to brighten your complexion and improve skin elasticity, making the sheet mask ideal as an anti-ageing treatment.

Collagen and Vitamin C are two of the key ingredients used in many skin care products due to their powerful abilities to not only improve the skin but work to shield the skin from visible impacts of environmental stressors. The mask is suitable for all skin types and works to reveal a youthful and radiant glow while tackling fine lines, wrinkles and pigmentation.

If your skin is feeling a bit tired or you suffer from a dull complexion, the mask will leave your skin feeling re-energised and soft to touch in just 15 minutes.