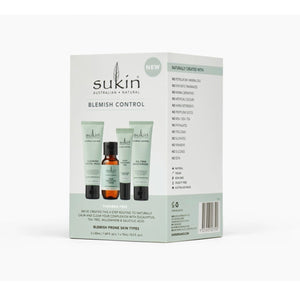 Blemishes? Banish them naturally with our 4-step Blemish Control Kit, everything you need to develop your blemish prone skincare routine to calm and clear your complexion, with acne fighting Eucalyptus, Tea Tree, Willowherb & Salicylic Acid.

Step 1: Clearing Facial Wash to purify skin while removing dirt and impurities with Quince and Pomegranate.
Step 2: Pore Perfecting Toner to refine and refresh the skin with Eucalyptus & Tea Tree.
Step 3: Spot Banishing Gel to take care of any breakout emergencies with Willowherb, Salicylic Acid & Eucalyptus.
Step 4: Oil Free Moisturiser to clarify and balance skin through Willowherb, Quince & Moringa.
TIP: Our Oil Balancing Anti-Pollution Facial Masque is great to use alongside our Anti-Blemish Skincare Set, as added Charcoal helps remove excess oils on the skin, preventing the clogging of pores. You can use it once or twice a week.
What's included?
1 X 50ml Blemish Control Clearing Facial Wash
1 X 50ml Blemish Control Pore Perfecting Toner
1 X 50ml Blemish Control Oil Free Moisturiser
1 X 15ml Blemish Control Spot Banishing Gel
Key benefits
4-step anti blemish skincare routine.
Works to fight blemishes, refine pores and improve skin texture.
For blemish-prone skin types.
Paraben Free.
Key ingredients
Eucalyptus - helps to reduce the prevalence of blemish causing bacteria on the skin.
Tea Tree - aids in reducing the appearance of redness associated with blemish prone skin.
Quince - aids the skin by refining skin texture & limiting shine.