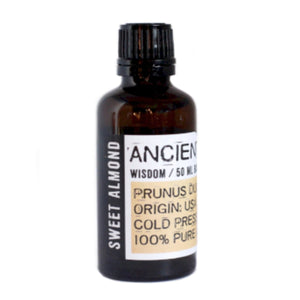 Origin: The Almond Tree is native to the Middle East and South Asia but has since been grown in various other areas including southern Europe and the warmer parts or United States.
Color and Smell:  Colourless to pale yellow. Odourless.
Texture: Very Light Oil.
Shelf Life: 1 year
Sweet Almond Base Oil is sourced from USA and made with cold pressed extraction method. The fruit of the tree is not actually a nut but a drupe, which means a fleshy outer skin with a hard shell inside it that contains the seed.
Sweet Almond Oil is very similar to Peach Kernel and Apricot Kernel. It is suited for nourishing dry skin and also for various other skin complaints like eczema and dermatitis. It also has mild anti-inflammatory properties.
Almond Oil is a popular professional massage oil. This super light oil helps the hands glide across the skin and has the ideal speed of absorption for performing massage. It stays on the skin long enough to perform the massage, keeping the skin moisturised not oily.
As Almond Oil is a nutritious and emollient oil, it makes an excellent all over skin moisturiser. It helps nourish the skin and this helps your skin look radiant and healthy. Being rich in fatty acids, particularly Oleic acid (Omega 9) and the natural antioxidant vitamin E, soothing Sweet Almond Oil is an excellent choice for those with mature skin.
50ml