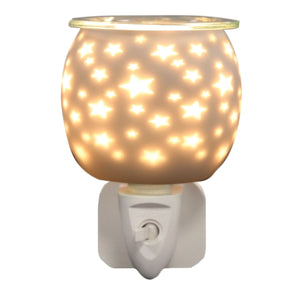 Wax Melt Burner Plug In - White Satin Stars 12cm
Aroma Accessories Plug-In fit directly into the mains socket and have anon/off switch. Place a wax melt in the dish switch on and enjoy your fragrance.
These burners are perfect miniatures of some of our best-selling electric burners.
Supplied with two glass dishes and two bulbs. Please ensure this product is only plugged in to a socket positioned at a safe height, away from children and animals.