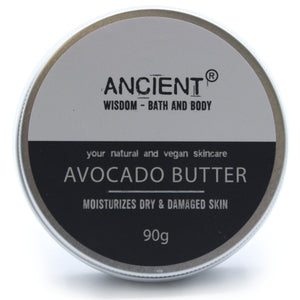 Pure Avocado butter is a rich source of numerous vitamins A, D, E and B (including folic acid), K and P, as well as potassium, calcium and iron. 
Ancient Wisdom Pure Avocado Butter is dedicated primarily to people with dry, very dry, dehydrated or combination skin. Thanks to its highly moisturizing properties, it effectively soothes, nourishes and nourishes cracked or flaky skin.
Benefits:
stimulates collagen synthesis, 
deeply moisturizes and smoothest, 
reduces fine wrinkles,
firms and tones the skin,
nourishes and replenishes the skin's lipid barrier, 
protects against free radicals and external factors.
Compared to lotions, the effect of body butter is noticeable much faster, and the improvement in the perceived comfort of the skin can be noticed after the first use of the product. Ancient Wisdom Pure Body Butter, unlike lighter cosmetics, does not get absorbed immediately after application, but remains on the skin in the form of an active film. Thanks to the beneficial ingredients of the product, it can actively regenerate the skin for up to several hours after applying it on the body.

Direction for use: Before application cleanse skin in warm-to-hot shower or bath to help open pores.  Gently massage a small dollop of our butter into skin.  Allow a few minutes for the butter to sink in before getting dressed.
90g