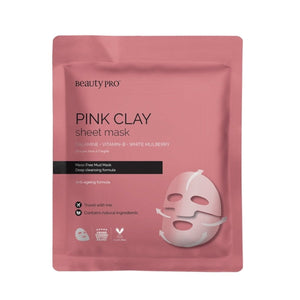 The BeautyPro Pink Clay Mask is a 60 minute deep cleansing treatment that will detoxify, lift and tighten the skin leaving it feeling refreshed and looking youthful. The two halves of the mask fit to the natural contours of your face and begin to harden across the duration of the treatment. Within 40 - 60 minutes, the clay will deeply penetrate the pores, cleansing them of toxins and leaving the skin tight and firm.
This mess free mask improves the skin's tone and clarity, as well as hydrating and brightening the complexion. Using Calamine and Niacinamide, the formula calms the skin, minimising redness and preventing acne. The treatment will help to improve the skin's natural moisture retention, locking in hydration to provide healthy skin with a youthful glow.
Vitamin B helps to balance the skin's natural oils to improve the skin's tone, while White Mulberry fades discolouration.